Singin' In The Rain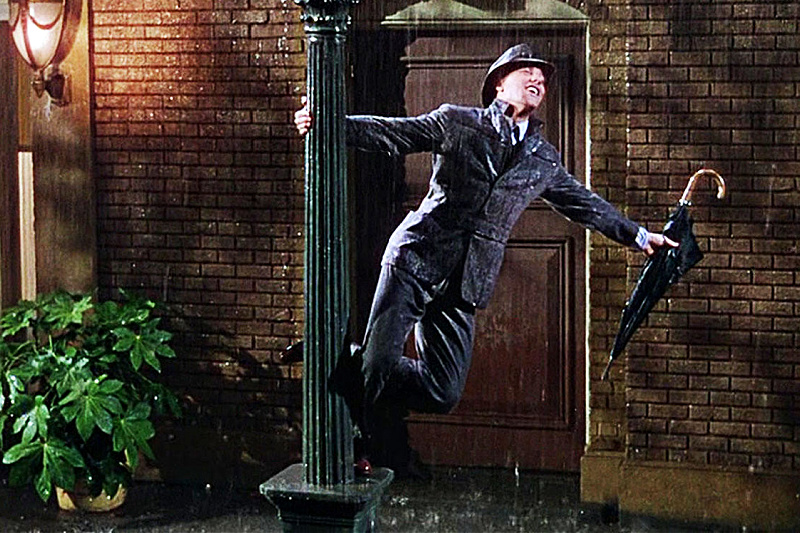 by Michael Feeley September 19, 2021
SOME PEOPLE GET wet in the rain, and others feel the rain. It's a choice.
I'm thinking of Gene Kelly and his classic dance number – Singin' In The Rain – where he's in love and a lover of rain moving about with unbounded joy that gets bigger and bigger as he gets wetter and wetter without minding at all.
He's one with the pouring rain, dancing up a storm in a storm, and it happens with great freedom and precision in
his dance steps. It's all planned and rehearsed and looks so spontaneous, which it is.
This movie clip is gratitude in motion dancing and splashing in a variety of abundant ways.
That's how life is, and that's how we want to be – in love, open, free, spontaneous as well as grounded, logical, prepared, exact, and with unlimited happiness (in all kinds of weather or circumstances) just like Gene Kelly.
See if this 4:36 YouTube video makes you feel grateful and happy, has you love the rain, and like the world
in an exuberant all-out way.
Here are the words too:
I'm singing in the rain
Just singing in the rain
What a glorious feelin'
I'm happy again
I'm laughing at clouds
So dark up above
The sun's in my heart
And I'm ready for love
Let the stormy clouds chase
Everyone from the place
Come on with the rain
I've a smile on my face
I walk down the lane
With a happy refrain
Just singin',
Singin' in the rain
Thanks – Michael (he, him)
Please share this post because it makes for gratitude and happiness.
I think you'll also like this –

You've Got To Love Yourself.
#594 (photo – Google image + Singin' In The Rain (YouTube video) – https://lnkd.in/eVMiCq78