What's Your Choice?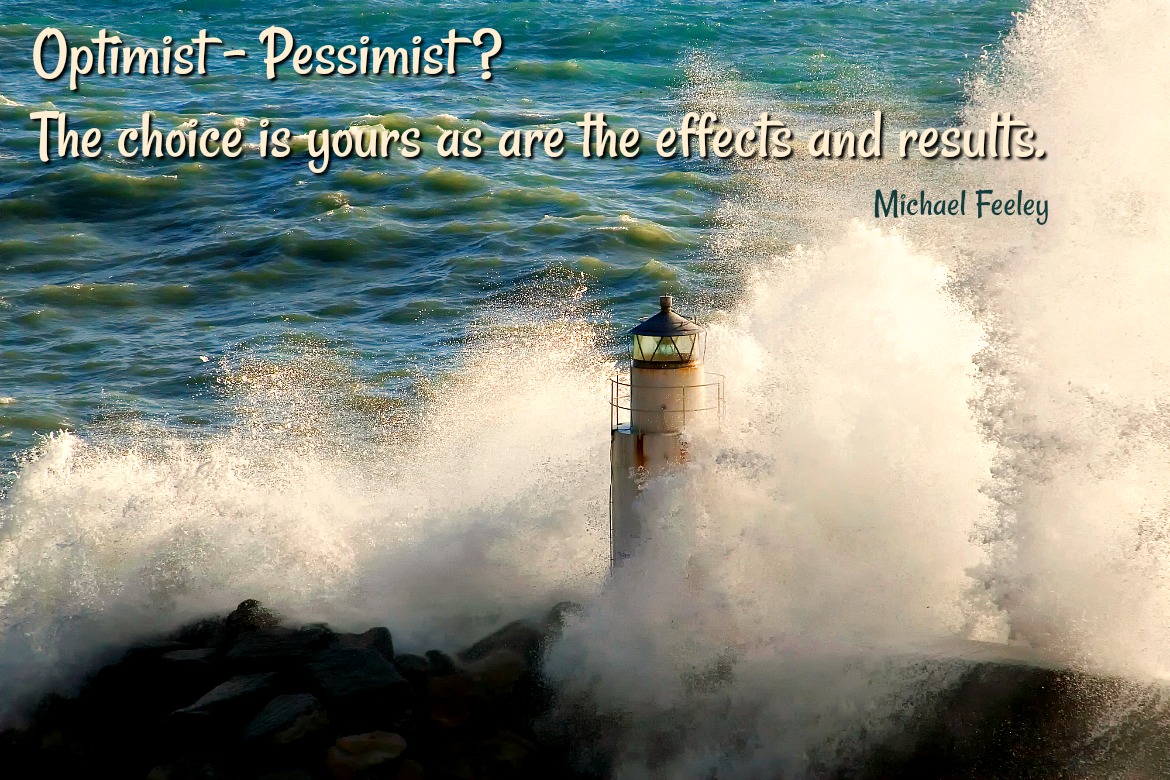 by Michael Feeley September 16, 2020
I'm a pragmatic optimist. Interested in the real. The truth. I like to be sensible and hopeful and confident that the best possible outcome will happen with any difficulties we face in life.
It's not positivity (which is part of optimism. Both a good). Positivity looks at things and says – "Everything is going to be fine.
Not to worry." Positivity doesn't always honor the real circumstances when things are bad! Like floods, losing a job, a pandemic.
Optimists see the facts and look for a solid, good solution – "OK. The rent is due and we're short on money. Let's figure out a way to get the rest of the cash. We'll get through this together."
Realists tend to keep emotions out of the picture. Accepting a situation as it is and just deals with it.
Writer Charles Dickens was a realist. He described life as it was and it wasn't always pretty! But he also included the reality of change for goodness and gratitude. Look at Scrooge in – A Christmas Carol.
One of the first books I ever read was The Story of My life by Helen Keller. I loved it! She was a realist and optimist.
Making a deep committed, choice to be optimistic about her physical challenges. What gratitude she expressed about learning. What generous changes she created for herself and the world around her.
"Optimism is the faith that leads to achievement.
Nothing can be done without hope and confidence." – Helen Keller
Another was – The Diary of Anne Frank. She too was an optimist – gratitudist. Grateful for what was and what she had, not focusing on the negative, not being a pessimist, not seeing the worst about life and people. And she had good reason to be negative and hopeless.
"The good news is that you don't know how great you can be!
How much you can love! What you can accomplish!
And what your potential is!"– Anne Frank
Nelson Mandela practiced kindness in prison and look how he lived when he came out of prison.
"Whether that comes from nature or nurture, I cannot say.
Part of being optimistic is keeping one's head pointed toward the sun, one's feet moving forward.
There were many dark moments when my faith in humanity was sorely tested, but…
I would not and could not give myself up to despair." – Nelson Mandela
And one more:
"If somebody says no to you, or if you get cut,
Michael Jordan was cut his first year, but he came back and he was the best ever.
That is what you have to have.
The attitude that I'm going to show everybody, I'm going to work hard to get better and better."
– Magic Johnson
OK, OK… Just one more that I cannot resist:
"Optimism is the most important human trait, because it allows us to evolve our ideas,
to improve our situation, and to hope for a better tomorrow."
― Seth Godin – Author – Linchpin: Are You Indispensable?
What will have you like yourself and life? Being an optimist – pessimist – realist – negativist – gratitudist?
The choice is yours as are the effects and results.
Thanks – Michael
Please share this post to welcome and build optimism and gratitude in all people.
I think you will also like this (one of my favorites) – Choices Add Up to Your Life.
#227