Persistent Gratitude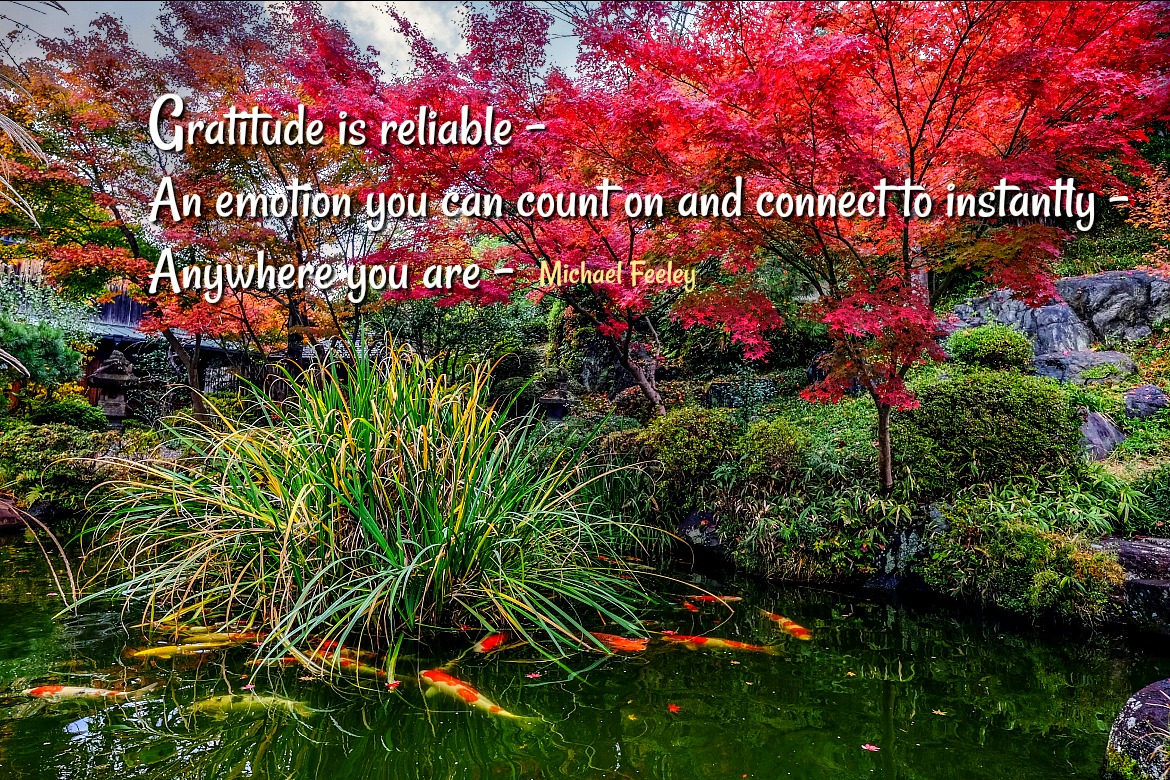 by Michael Feeley September 9, 2020
What are your first thoughts of the day – gratitude or complaint?
It's something to notice. Even if you wake up tired, with low energy, where is gratitude or do you choose to ride with
a case of the blahhhhs?
You may have to rev up your gratitude but the choice for gratitude and its effects are powerful.
Test it with a 'gratitude roll'. Immediately look at your good fortune and abundance in your life, and see if gratitude opposes dullness and enhances excitement.
Look around and speak out loud the things you like and love and give you immediate pleasure. See if appreciation and thanks makes for strength. And please, mean what you say or it won't work.
Persistent gratitude is something I practice every day. The moment I wake up I have a gratitude thought:
How grateful I am for my home – air-conditioning – daylight – the sound of gentle rain on our red tin roof – running water in the sink – eye glasses to see – hot Nepresso coffee (#9) with steamed milk – the book I'm reading by Angela Beeching –
Beyond Talent – a black Bic ink pen and pad of white lined paper… I get powered up fast. Energized with happiness about specific gratitude.
The more you practice gratitude the more it grows and works incredibly well! Build that gratitude muscle and it will
not let you down
Gratitude is reliable. An emotion you can count on and connect to instantly… anywhere you are.
Now – Let's get to the end of the day – What will be your last thoughts before you go to sleep?
Thanks – Michael
Please pass this post along and promote persistent gratitude.
This may also power you up – Don't Miss Obvious Gratitude.
#220