What Do You Want?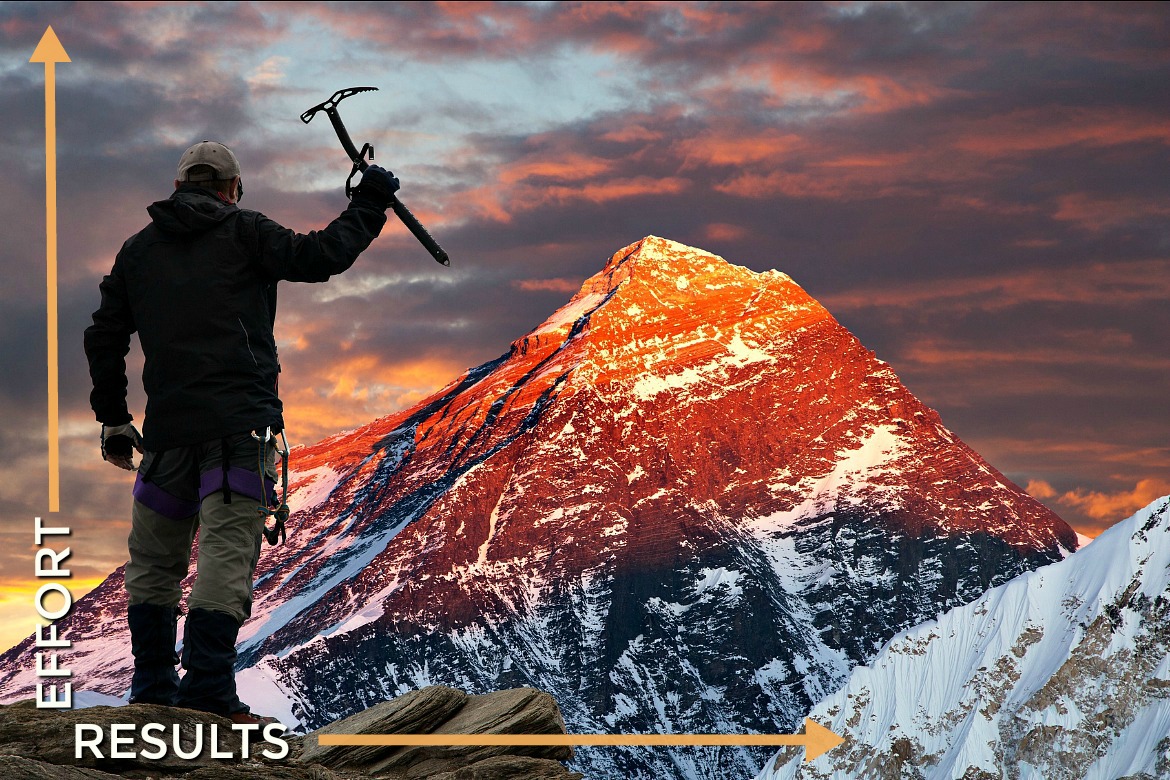 by Michael Feeley August 22, 2020
It's the hardest and most important question to answer in all aspects of your life.
♦
Here's a Challenge Graph to help you make a choice:
The BEST in The World
Indispensable
Excellent
Great
Worth it
Good
Good enough
A Cog
Average
Random
Mediocre
Forgettable… Who?
– Will you fully commit or just give your life a shot?
– Will you let passion drive you?
– Will you make time, whole heartedly invest in yourself, pour out the energy, put in the effort to get exactly what you want?
– What is 'worth it' to you?
– What is your life dream?
– What kind of quest are you on?
– How big is your mission?
– What is your hero's journey?
It is tough to be The Best in The World. Hard steady work, focusing, learning skills, showing up every day with purpose and courage (even when you don't want to). It's not about beginner's luck but rather being a master.
Where are you most proud of being yourself in this life time? Where you truly know – This is who I AM.
I'm a confident person
Have been most of my life because I wholeheartedly commit to my vocations and jobs and careers, skills, companies and people. I'm loyal. I work hard and produce and do it steadily. Exemplary service is vital and what I offer all the time – being #1 or The BEST – in all I do is what I strive for. It's natural to me. I practice my skills and choices and actions all the time and yes… it includes doing laundry, shopping, watering plants.
I aim high. I don't lower my standards to just be 'good enough'. Never dumbing down my vision of being a Super Star.
My good name matters!
I remember
First getting into sales in the staffing industry and quickly being successful. My boss was thrilled I was making them gobs of money but he soon became my antagonist, telling me I had too much power and control over the business I brought in and worked on instead of being wildly grateful for the size and brand names of the clients I attracted.
As the status quo, he and others in the company, watched me rumba and dance the tango when I was told to waltz. Ordered to waltz and with certain music and partners. What Seth Godin so aptly describes as – "Play the notes as written." – That's what they thought they trained for. To fit right in. "Don't stand out and shine without permission. Be random and obedient."
I was use to being a star. Going after and asking for what I wanted.
If I was chosen to be the understudy for a part in a play, that was success. I was the best person to be the understudy. Not 2nd best. I didn't feel shame. I felt honored. Proud to be selected and hopeful that I would go on and be given my chance to shine.
An antagonist, and that can be your own inner critic, as well as the status quo, wants you to be less than you are.  To fail and not to be as good as you can possibly be. There is no empathy for other people from an antagonist.
Best in the world examples
Michelle Kwan is a retired American figure skater. She is a two-time Olympic medalist (silver in 1998, bronze in 2002), a five-time World champion (1996, 1998, 2000, 2001, 2003) and a nine-time U.S. champion (1996, 1998–2005).
Is she a loser because she didn't win the Gold as expected? Why is she considered – "The Best Skater in The World"?
It's because of her choices – her drive, skills and innate talent, hard work, perseverance and integrity that make her a respected and loved hero, role-model, star. She took action on the ice just like…
Magic Johnson did on the basketball court being called – "The greatest basketball player of all time" and also…
hockey player Wayne Gretzky  – "The Great One" and…
Joan Sutherland – "La Stupenda".
Memorable or mediocre?
I believe everyone one of us has the ability to be The Best at whatever we do. As long as we meet the criterion – work hard, love your work, learn and keep practicing skills, trust your abilities, take risks, ask for what you want, stand up when you fall flat on your ass and keep going! Make better choices. Be consistent and generous and kind.
You've got dreams that matter. Go make them happen! Act on your desires and give them all you've got. Always and
in all ways. Do it with integrity and valor. Whether you're recognized or not.
Do what you do best… what you do better than anyone else in the whole world.

Thanks – Michael
(Yes – It's Mt. Everest)
Help people discover what they want most for their lives by sharing this post all over.
Then take a look at this –

What Is Being True to Yourself?
#202